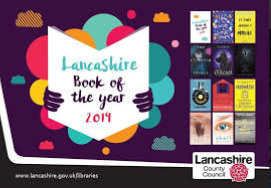 LANCASHIRE BOOK OF THE YEAR 2019
After a fantastic debate with 24 other Lancashire schools at County Hall in Preston on 25th June, a secret vote was taken to decide the winner.
Three of our Year 9 students - Marianne, Hannah & Tyler put forward
their views on who they thought should win based on their own
opinions and those of the rest of the Year 9 readers of the shortlist.
The final five were selected and then the winner itself!
We were all sworn to secrecy and
invited to meet up again at UCLAN for a celebration event to meet the shortlisted authors and to find out who the winner was!
Mrs Banks, Mrs Parkinson and Mrs Gornall took three students to UCLAN on July 5th to represent our school at the Award Event.
Sarah Mussi, author of 'Riot', the winner of the award in 2015, gave a fantastic speech about what it was actually like to be an award winner and how it had affected her career as a writer.
The shortlisted authors all spoke about their books and their
experiences of how they became writers and where they got their
inspiration for stories.
We then had the opportunity to meet the authors as they signed our books and we had a fabulous free lunch too!