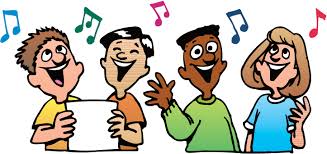 Mrs Crow and Y10 student Hannah appeared on Radio Lancashire to chat about the GCA single - listen here: https://www.bbc.co.uk/sounds/play/p08b4syj
Dear Students, Parents and Carers,
I thought would be great for us to all get involved in a music project to put a smile on everyone's face in these strange times!
The idea is to record a song together whilst we are not! The song is 'Put A Little Love In Your Heart' which I'm hoping most of you will recognise (Annie Lennox and Al Green did a very well known version of it if you want to listen to theirs). I have recorded a piano accompaniment, a lead vocal and then two separate harmony lines- one slightly higher than the other. What I'd love you to do is pick one of the vocal lines, practise it a bit and learn it and then record yourself singing it and email it back to me using the usual Creative Arts email address. I'll then compile all of the tracks together into our GCA lockdown single.
It helps me lots if you send me a 'clean' track that only has your vocals on it. The easiest way for you to do this is to use two phones. Play back my recording with me singing through headphones and record into the other device. You should be able to then email me an MP3 of your vocal line. This will be an audio recording only and so you don't need to film yourself. Try to make your vocal line as close to mine in rhythm as you can- although if you want to get funky and do some improvising at the end you're more than welcome! Similarly, if you fancy doing more than one of the vocal lines then that's great- just send them to me as separate tracks. Family members are more than welcome to get involved too!
I'm not looking for perfect vocals- just a sense of us all singing together and creating something so please don't worry about your singing ability. Just have a go and leave the rest to me!
If you are unsure about how to do any of this then please just send me an email and I will try to help.
I hope you have fun with it and enjoy singing (scientifically proven to make you feel better so got to be worth a go!)
I will email separately about another music project that some of you may wish to be involved with (this is merely the single- there's an album in us for sure!!)
All the best everyone- look forward to receiving your recordings!
Mrs Crow
Head of Creative Arts/DT