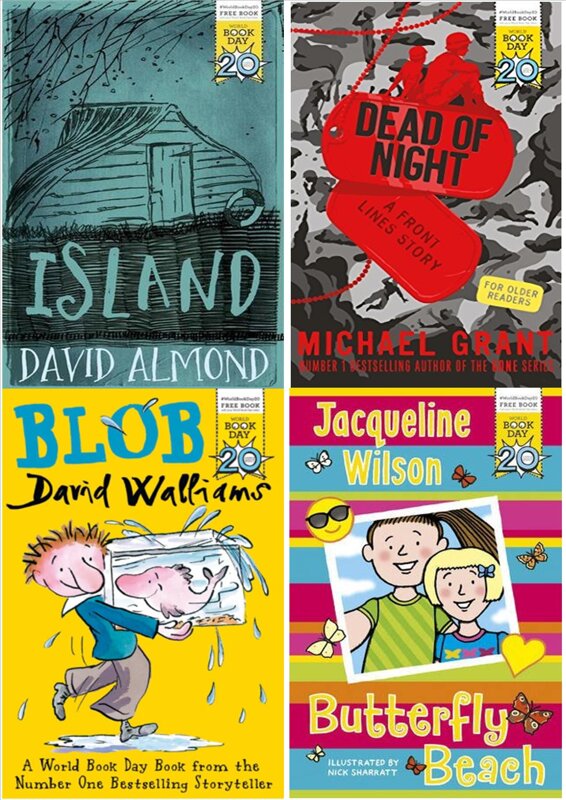 WORLD BOOK DAY 2017
We will be celebrating World Book Day with lots of fun activities and prizes
in the Study Centre throughout the week.
Please come and join us at morning breaks and lunch-times.
You can exchange your £1 Book Voucher in the Study Centre
for one of the four books above and below.
Island by David Almond...
Hair like a jagged, gleaming star.
Blurred birds on his pale skin.
He comes from nothing, from nowhere.
Each year, Louise travels with her father to Lindisfarne. But this year
things have changed and the beautiful island seems troubled.
Louise meets Hassan, a boy from Syria, who fascinates her. He is an acrobat,
maybe a sorcerer, perhaps a source of great danger.
The gang of boys who live in wild parts of the island want to cast him out.
Over the course of a few days, the forces of love, death, hope and destruction
connect all who are staying there.
This is a story which shows how the journeys we take and the people we meet shape us forever.
Blob by David Walliams...
This is the story of how a boy called Bob meets a blobfish called Blob.
A funny and heartwarming tale of a very unusual friendship, from one of the world's favourite children's authors.
Butterfly Beach by Jacqueline Wilson...
Selma can't wait to go on a beachbreak with her best friend forever, Tina.
But a holiday with Tina means a holiday with Tina's triplet sisters too - and it's not long before Selma starts to feel like the odd one out.
Can their shared love of butterflies bring Selma and Tina back together again?
A brilliant brand new story from one of Britain's bestselling and most-loved children's authors.
Dead of Night by Michael Grant...
An exclusive story set in Michael Grant's epic alternate World war II series.
Rio Richlin doesn't have superpowers. She is an ordinary young woman:
a soldier in the American army, wearing a uniform, carrying a rifle, trying to win the war.
Right now, Rio's only training but soon, the fate of the world
will be in the hands of the soldier girls.
WARNING - contains scenes of violence and warfare!
ALL BOOKS ARE AVAILABLE IN THE STUDY CENTRE NOW